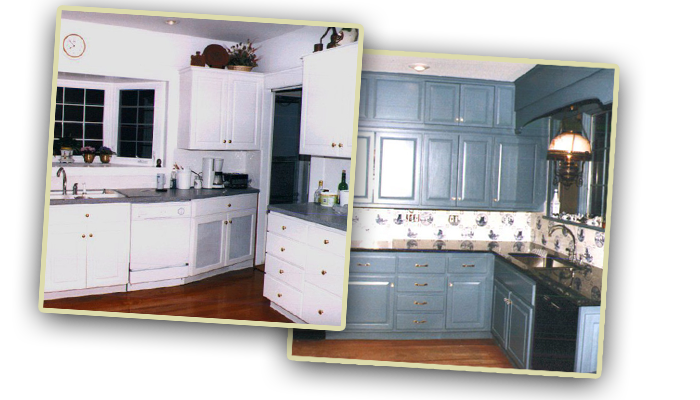 Mark's Testimonial

Joe was fantastic, a true craftsman - and very personable. The quality of his work is top notch and we also enjoyed having him around. We are very happy with the finished product and would Highly recommend him. We selected domesti kitchen because joe (the owner) originally came out to our house, shown the product, provided pricing and did all the work. We got a couple proposals from other companies that had salesman who show and proposed the products and then would send installers to do the actual work. With Domesti kitchen, we knew who was doing the work and he had the best pricing. All the work was finished exactly as proposed, on time and budget. We are very pleased.

Carrie's Testimonial

Joe did an excellent job at a fair price. He was extremely personable, easy to chat with and did he very best to make sure we were satisfied with the work. We have had many comments and reactions from family and friends. We love the new kitchen, it is amazing! Thanks Joe.

Art's Testimonial

Joe did exactly what he said he would do, the cabinets came out fabulous. Joe explained everything to us. Very happy with the way everything came out and Our neighbors were very impressed!

Linda's Testimonial

Local professional, who did quality work, on time and on budget. Check out his sample work on his facebook page - very impressive! I would highly recommend Joe.

Valerie's Testimonial

We are thrilled with the transformation of our kitchen! Joe is the best contractor we have ever worked with in my 25 years of home ownership. He is a perfectionist who went above and beyond to make sure the job was to our liking. Joe is a contractor you can trust to work in your home when you are not there. I would hire him again and highly recommend him to everyone.

Gini's Testimonial

I wish all contractors were this easy and professional to work with. I highly recommend Joe. I will hire him again for any future needs.

Bill's Testimonial

This guy knows his stuff. complete transformation in our kitchen. My wife is very happy. Highly recommended contractor. Thanks Joe

Carla's Testimonial

Joe is a real artist and professional. He promptly answered all questions and provided us with a professional and detailed cost of the job. He pointed out all the errors made in the original installation of our cabinets and corrected every little detail. His work was impeccable and our kitchen is absolutely gorgeous. We couldn't be happier. We would hire him again and we would definitely recommend him to friends and family.

Kathy's Testimonial

Joe was great and very accommodating with timing and my crazy schedule. the project got delayed 2 months while I was deployed but there was no problem. I go 4 estimates and his was the best price, even though some of the other companies were offering the exact same product. Would whole heartedly recommend.

Katalin's Testimonial

This was our first time doing a kitchen remodel and Joe did a fantastic job walking us through the process. He answered endless questions and gave great advice on things he knows better from experience. He did a great job with the install, Kept things nice and clean and even did a couple of extra things we asked him for last minute. He also did a great job following up and correcting one minor thing that didn't work. I would highly recommend Joe to anyone looking for a kitchen refacing. Significantly more affordable than a full kitchen remodel and looks just as nice! Thank you Joe for our beautiful kitchen!
---
TASK.
Take an out dated oak cabinet in Hollis, NH that was installed by the home builder and update it to a new & exciting centerpiece of the home. Timing was a big factor in this project schedule as the client was expecting a child and the delivery date was coming up fast. The goal was to be done with the project several weeks before the new baby was to arrive.


APPROACH.
Rework the old pie cut Lazy Susan cabinet into a 45 degree full circle Lazy Susan with a new splay cut Granite Countertop to match it. Measure & Order the components quickly due to time constraint. Install all new Granite Countertops. Install new Crown molding on top of cabinets


RESULT.
The job started on time and was complete within a week. The new full circle Lazy Susan provided 25% more cabinet shelf space and the added 45 degree corner of the counter added a new work station in the kitchen.

No sooner did we finish when just a few days later the new baby decided to come early! Mom, Dad, Big Brother, and their new Baby are all enjoying life with their new Kitchen.


TESTIMONIAL.
"We love how our kitchen came out. It was fast and looks amazing!!!"
---
TASK.
This was a well-built kitchen in Milford, NH that had all custom cabinetry and recently installed granite countertops worthy of saving. Take it from a 1970's dark pine and modernize it into a new Bright kitchen with doors glazed with a brown accent to blend with the existing woodworking, tile splash. Granite countertop and tile floor.


APPROACH.
Protect the existing Granite countertop with 3/8" foam padding during project. Remove and replace thin ¼" Facia with new ¾" one. Add all new Dovetail Drawer boxes with soft close drawer slides Prep cabinets and add new refacing skin to match the doors chosen by the client. Discard old Valance and replace with new Arched one.


RESULT.
The new thicker facia added depth and character to the upper cabinets. The new color of the cabinetry compliments the other surfaces and has made the whole room feel much brighter as you walk into the room.
---
TASK.
We want YOUR Kitchen Project to be showcased next. The before & after photos of your kitchen will have you showing the project off to family and friends.


APPROACH.
Click on the "Contact Us" area right now to discuss the options and get your project rolling.


RESULT.
As you can see by the testimonials above, the results on your project will speak for themselves. The wonderful feeling of coming home to your new Kitchen everyday will be well worth your time. Contact us today.