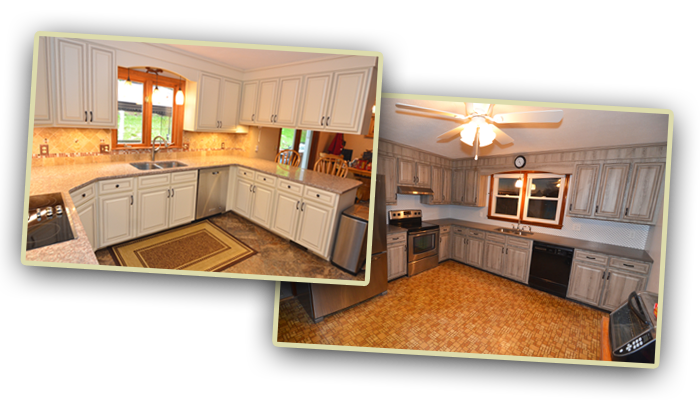 With decades of making and refacing cabinets at our client's homes, a series of Best Practices has been developed. These practices have increased the affordability of our products and services.
---
THE PROCESS
FROM CONCEPTION TO WOW!
When you first make contact with us, we will discuss your goals and ideas along with approximate budgeting. As we move forward with your project, we schedule a free consultation at your home to measure your project out and give you more precise pricing.

As your project moves forward, we order the custom sized Cabinet Components. The Doors and Drawer boxes for every one of our jobs are custom made for each specific project. There are no "standard sizes" in the work we do. Each item is custom made for a perfect fit. Drawer Slides and Hinges are also ordered into our rotating stock of these items. This practice prepares us for the start of the work at your home.

While working at your home, our screened and approved installers will protect your floors and countertop surfaces as they work. Most of our projects require from 3 to 5 days of work depending on the scope of that work. We remove all the old components and prepare for the new ones. If there is custom re-work of the old cabinets being done, it's done before the new finish skin goes on all the front framework and sides of all the cabinets.

As your new Kitchen emerges, the excitement of seeing your new cabinets becomes real. With options like Soft Close Hinges and drawer slides, as well as new crown moldings and finally the hardware that you provide is installed.
BREATHE NEW LIFE INTO YOUR HOME.
CUSTOMIZE & MAXIMIZE WHILE KEEPING THE INTEGRITY OF YOUR HOME.
Although our marketing efforts are geared toward Cabinet Refacing, it's good for our clients to know that we are first & foremost Cabinet Makers. We are not simply Kitchen Installers. There are times when a fully custom Kitchen is what is being called for. We can & do make all new custom cabinetry right on location. This practice is a throwback to the earlier days of Cabinet Making. After the Depression of the 1930's when the American home was abandoning the walk in Pantry in favor of Kitchen Cabinets, the Finish Carpenter on site would make the Kitchen cabinets right on the wall.

These cabinets, like ours today were made with all ¾" thick wood materials. There isn't the "3 inch increments only" limitation that new store bought cabinets are known for. Custom fit cabinets are better in many, many ways over store bought cabinets. All this without adding unusually high prices due to the Best Practices that DomestiKitchens applies to our process.